05/02/2018 [9BAR]
Swamp Sessions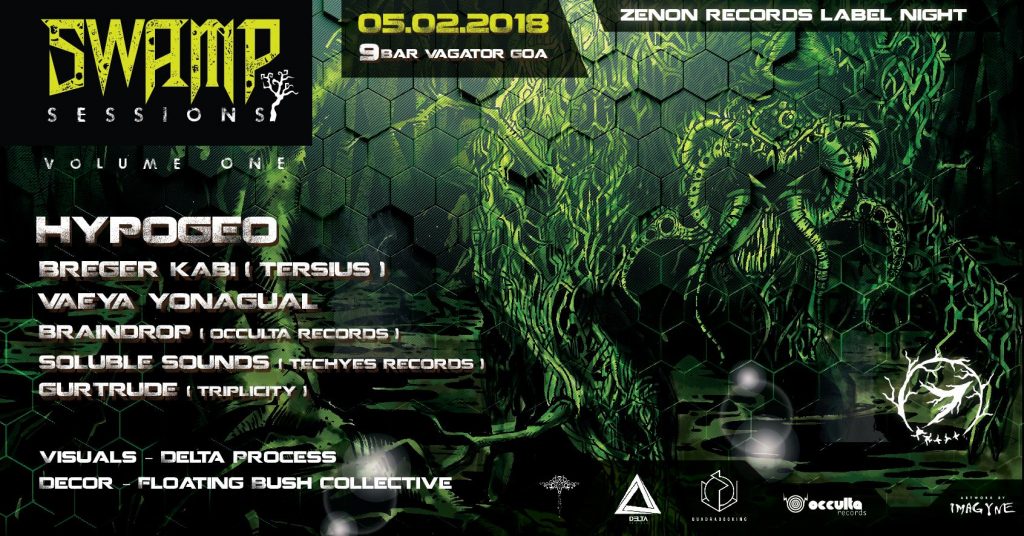 Event info
Zenon records label night coming to 9 bar Goa Febuary 2018.
Dark frogs have been breeding in the swamp for centuries, biding their time and plotting their plans. Finally their spawn is ready to loose its tails and venture on dry land. Their dedicated practise of drumming on lilly pads and keeping the vibes fresh with their thought evoking croaks have started to turn heads deeper in the swamp. Their time is here.
Mega dugga and high grade party coming your way…
TICKETS
PRESALE TICKETS ₹800
Available from The Parvati Shop, Chapora GOA
**PRESALES AVAILABLE UNTIL 5th FEB**
TICKETS ON THE DOOR ₹1000
9Bar Goa From 2pm 5th Feb 2018
*** FULL LINE-UP!!!***
—————————-Zenon Artists———————————-
HypoGeo – LIVE – Zenon Records – Italy
***FIRST LIVE SET IN GOA!!!***
HypoGeo is by definition : whatever origins, grows and evolves under the ground. This description perfectly fits his music : deep, obscure, hypnotic, mental, dirt and psychedelic. Hypogeo's aggressive and heavy sound, built the bridge between the most deep and psychedelic trance and forest, and the actual Zenon sound, filling main stages at top festivals and events all over the world, it's definitely something that you have to experience.

Breger – LIVE – Zenon Records – Germany
Slick as fuck hats with mental out of this world arrangment coupled with mind melting bass will make your squirm into a steriod octopus.
Breger's style varies from deep and minimal house to savage techno. His productions and sets are take-no-prisoners beats and tight sound design. Consistently charting in the top 10 minimal/techno on Beatport.

KAbi – LIVE – ZENON Records – SOUTH AFRICA
This is the slightly slower project by Tersius van Papendorp. focusing on progressive styles with strong forest influences, the groove and nature. In the mid to late 2000's he discovered the Zenon sound and was inspired by Grouch and Sensient to the extent that it influenced his producing style (although forest at the time). He released his first forest track 'Thundrafi' 2010 under his name Tersius, and slowly but surely more music followed. He started exploring and producing other genres and styles such as minimal and progressive searching for another way to express himself… and found the Zenonesque style allowed him a lot of creative freedom – hence the Kabi project was born. In 2014 he toured Europe and played Kabi and Tersius sets at Lost Theory, Freqs of Nature and Momento Demento Festival. His Kabi project is aimed to be tribal, deep, groovy and in honouring of the " bushman" people of Southern Africa with their trance dancing.

Yonagual / Zenon Records – ZENON Records – FINLAND
Yonagual plays psychedelic progressive and techno. He likes to build his sets like a story, an engrossing journey true deep and groovy, dance floor friendly soundscapes, leading the listeners to a pleasant and hypnotic state of mind.
As a Zenon Records label Dj he has access to a lot of unreleased and fresh weapons, which to, using a complex tech setup, he brings his own tasty twist. These multi channel techniques together with a drum machine, loops and effects brings more surprises and live elements into his curious sets.
This guy has a very good taste in music!

Vaeya – ZENON Records / OCCULTA Records – INDIA
In 2014 Vaeya was signed as the official Zenon Records DJ in India and can be found playing cutting edge sets representing this sound at parties and festivals both inside and outside of India. He is currently working on his third studio album and a brand new live set.

——————————Supported by ——————————-
Braindrop – LIVE – OCCULTA Rec
One of India's top psy artists, BrainDrop also produces some seriously hefty dark prog, filled with metallic sounds and deep granular atmospheres.

SolubleSounds – LIVE – PISTELERO Rec / TECHYES Rec – UK
Cheeky techno/breaks/electro/dnb/trance/and electronica playfully merged with a variety of psychedelics
GURTRUDE – DJ – TRiPLICTY – UK
Playing a massive mixture of everything swampy heavy dark techy squelchy, expect a multi deck mash up of all of his favourite tunes.
DERKPERG4LYF

—————————————————————————–
Seriously stylish slick as fuck Decor provided by Floating Bush Collective!!
Visuals and Mapping by Delta Process – They seriously know how to make stuff wobble.. High grade mapping for your eye pleasuring!

Sound system to be announced!
This party is for the love of Dark progressive yo … It spreads